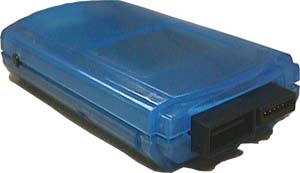 ONLY $34.95
True 4 Meg Memory Card! No data compression to ensure your game saves will NEVER be lost.
Built-in Communications port allows the card to be connected to any PC.
Allows you to copy all of your saves games from the MemWizard and keep them on your hard drive. The amount of games saves you can keep is LIMITLESS!
You can easily copy saves games to and from the MemWizard using the Com.Cable
FREE Com.Cable INCLUDED with every order.
Send your favorite game saves to your friends in email, or download the hottest saved games and use them yourself. The possibilities are ENDLESS!